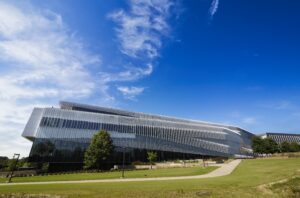 The Second International Energy Harvesting Workshop, EnerHarv 2022 is to be Held In-Person in Raleigh, NC, April 5-7, 2022
EnerHarv 2022 will bring together experts from around the world working on all technical areas relevant to energy harvesting, power management and its IoT applications. This non-profit workshop, organized and sponsored by the Power Sources Manufacturers Association (PSMA), will be held on the Centennial Campus of NC State University in the award-winning Hunt Library. The workshop will be hosted by the ASSIST NSF Engineering Research Center.
EnerHarv 2022's vision is to create a focal point for experts and users of energy harvesting and related technologies to share knowledge, best practices, roadmaps, experiences and provide opportunities for collaboration to increase the uptake of such technologies. The workshop is targeted at a broad audience
from industry and academia working on materials and devices for energy harvesting and storage, low-power sensors and circuits, micro power management, and their applications in powering IoT devices for health and environmental monitoring, assisted living, and monitoring of equipment and buildings. The workshop program will be divided evenly between lecture sessions, functional demonstrations, and interactive panel discussions with plenty of time reserved for networking and team-building prospects.
Please view our COVID19 policy.
---
Mehmet Ozturk, General Chair
Brian Zahnstecher, General Co-chair
Mike Hayes, Technical Co-chair
Shad Roundy, Technical Co-chair
---
EnerHarv Overview
'A focal point for a community of experts and users of energy harvesting & related technologies to share knowledge, best practices, roadmaps, experiences and create opportunities for collaboration'
What are the key drivers for this workshop?
By 2025 we need to power a trillion sensors [source McKinsey]
Wireless sensors need battery changes – we need where possible to use regenerative power to avoid this
Energy harvesting component designers often do not understand how to optimise system level performance
The ambient energies available are often unknown
Industrial IoT (internet of things) device developers need to reduce power consumption to extend battery life and potentially self-power
The conversation has moved to "How can I take advantage of this technology?"
We need to deliver an energy harvesting ecosystem roadmap to guide and accelerate development
We need to bring a community of experts together to address these issues and opportunities
What will I see & do at the workshop?
Demonstrations from leading industry and academic developers

Materials, devices, systems, visualization and simulation tools

Examples of successful Energy Harvesting products already created
Network with developers and (potential) users and integrators of energy harvesting materials, devices and systems

Understand where the technology is going

Identify opportunities and bottlenecks

Scope out collaboration opportunities
Host & Venue
Center for Advanced Self-Powered Systems of Integrated Sensors and Technologies (ASSIST),
at North Carolina State University (NC State)